Work during School Closure Period
Writing challenge!
Miss Chapman has provided a writing challenge for the whole school, we are hoping to use your work for display boards when we return to school.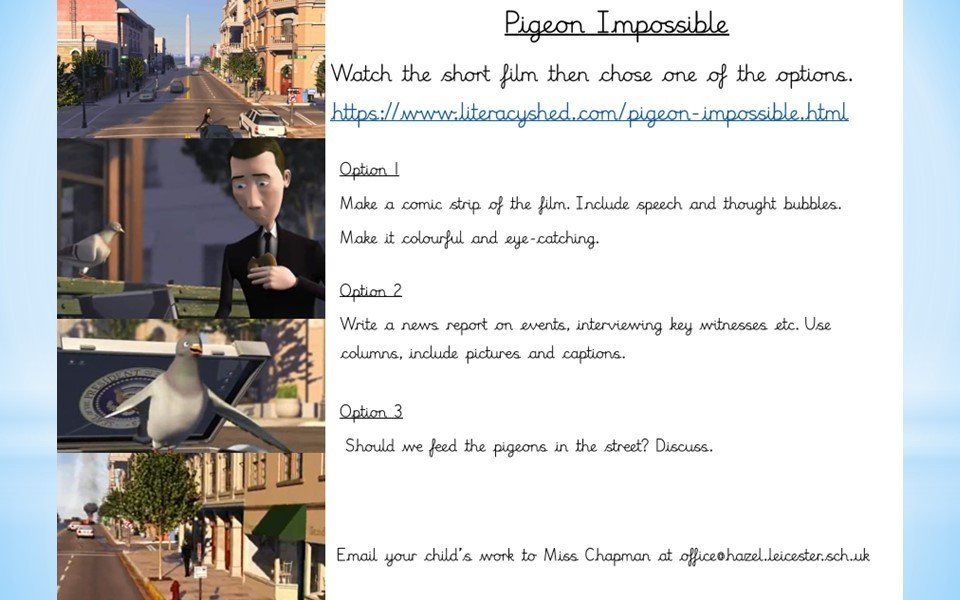 Click the link to see the actual document with working links.
Writing Challenge Pigeon Impossible.pdf
Below are previous writing challenges, in case you missed them.
Writing Challenge Oktopodi.pdf
The files below have been provided by our class teachers to allow parents and children to continue learning at home.
Don't forget to check out Purple Mash, BugClub, Times Tables Rock Stars, My Maths where your children can do other exciting things! Check out the Homework page on our website for easy links to online resources.
As of 8th April no more files will be added below, our teachers for this year group are now using ClassDojo
to allocate work which also allows parents to provide feedback.

ClassDojo -
| Name | |
| --- | --- |
| Diving into Mastery Activity Cards.pdf | Download |
| Diving into Mastery Guidance.pdf | Download |
| Emperor Penguin Life Cycle Differentiated Reading Comprehension Activity.pdf | Download |
| Maths homework grid Y2.pdf | Download |
| t-n-5083-oclock-half-past-and-quarter-past-to-times-activity-sheet-_ver_2.pdf | Download |
| t-n-7132-telling-the-time-powerpoint- (1).ppt | Download |
| T-N-7355-Draw-the-Times-Quarter-Past-and-Quarter-To-Activity-Sheet-_ver_2.pdf | Download |
| t-or-2007-describe-the-monster-writing-activity-sheet.pdf | Download |
| T-PA-767-Year-2-Grammar-and-Punctuation-Test-1_ver_1.pdf | Download |
| time Activity Cards.pdf | Download |
Year 2
The long term plans at Hazel Community Primary School have been written to provide a broad, balanced and exciting curriculum that will motivate and engage the pupils at Hazel. The Long Term plans may sometimes change due to extra-curricular opportunities and additional visits.
Spring Term One