Work during School Closure Period
Writing challenge!
Miss Chapman has provided a writing challenge for the whole school, we are hoping to use your work for display boards when we return to school.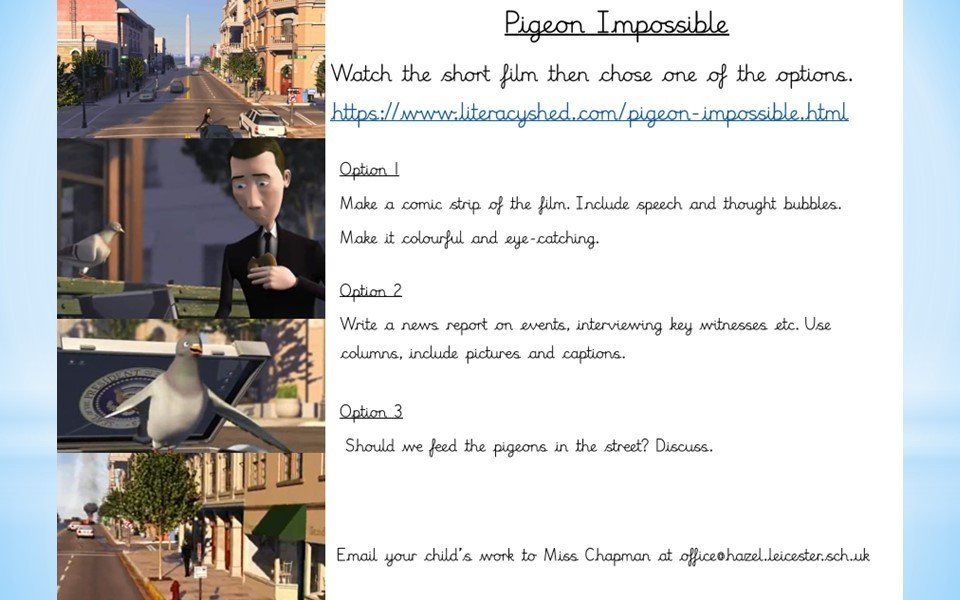 Click the link to see the actual document with working links.
Writing Challenge Pigeon Impossible.pdf
Below are previous writing challenges, in case you missed them.
Writing Challenge Oktopodi.pdf
The files below have been provided by our class teachers to allow parents and children to continue learning at home.
Don't forget to check out Purple Mash, BugClub, Times Tables Rock Stars, My Maths where your children can do other exciting things! Check out the Homework page on our website for easy links to online resources.
Week 1
| Name | |
| --- | --- |
| Maths homework grid - Y1 .pdf | Download |
| Spring English Activity Booklet Answers.pdf | Download |
| Spring English Activity Booklet.pdf | Download |
| t-e-2549919-year-1-school-closure-interactive-learning-links_ver_3.pdf | Download |
| Year 1 Science Learning from Home (Animals, Including Humans) Activity Booklet.pdf | Download |
| Year 1 Spring Maths Activity Booklet Answers.pdf | Download |
| Year 1 Spring Maths Activity Booklet.pdf | Download |
| Year 1 Term 3A Week 6 - PowerPoint.pdf | Download |
| Year 1 Term 3A Week 6 Spelling Pack Word Lists.pdf | Download |
Showing 1-9 of 9
Week2
| Name | |
| --- | --- |
| a-e Spelling Activity.pdf | Download |
| ay Spelling Activity.pdf | Download |
| Maths Year-1-Free-Home-Learning-Pack.pdf | Download |
| Year 1 Common Exception Word Activity Mat Pack 2.pdf | Download |
| Year 1 Science Learning from Home (Everyday Materials) Activity Booklet.pdf | Download |
| Year 1 Term 3B Week 1 - Presentation.ppt | Download |
| Year 1 Term 3B Week 1 - Word Lists.pdf | Download |
Showing 1-7 of 7
Week 3
| Name | |
| --- | --- |
| au Spelling Activity.pdf | Download |
| aw Spelling Activity.pdf | Download |
| Maths homework grid - Y1 .pdf | Download |
| Snakes and Ladders Addition to 20 Board Game Board Game.pdf | Download |
| Spelling The Prefix 'un' PowerPoint.ppt | Download |
| Spelling Word List.pdf | Download |
| Spelling Wordsearch.pdf | Download |
| T-L-141-line-handwriting-worksheets_ver_4.pdf | Download |
| Writing opportunity- instructions.docx | Download |
| Year 1 Common Exception Word Activity Mat Pack 3.pdf | Download |
Showing 1-10 of 10
Week 7
| Name | |
| --- | --- |
| ou Spelling Activity.pdf | Download |
| oy Spelling Activity.pdf | Download |
| Science.pdf | Download |
| Writing opportunity for this week.docx | Download |
| Year 1 Common Exception Word Activity Mat Pack 7.pdf | Download |
| Year 1 Term 2B Week 6 - Presentation.ppt | Download |
| Year 1 Term 2B Week 6 - Wordlist.pdf | Download |
| Year 1 Term 2B Week 6 - Wordsearch.pdf | Download |
Showing 1-8 of 8
Week Beginning 1st June
| Name | |
| --- | --- |
| Building a den writing opportunity.pdf | Download |
| Circle half and quarter of amounts.pdf | Download |
| Colour the Fractions.pdf | Download |
| Describe the monster writing opportunity.pdf | Download |
| English writing opprtunities.docx | Download |
| ey Spelling Activity.pdf | Download |
| Fractions of amounts powerpoint.ppt | Download |
| Half or quarter sorting.pdf | Download |
| Halves and quarters powerpoint.ppt | Download |
| ir Spelling Activity.pdf | Download |
Week beginning 22nd June
| Name | |
| --- | --- |
| All about non fictions texts powerpoint.pptx | Download |
| au Phoneme Spotter Comprehension.pdf | Download |
| aw Phoneme Spotter Comprehension.pdf | Download |
| Diving into Mastery Activity Cards.pdf | Download |
| Mat 1.pdf | Download |
| Mat 2.pdf | Download |
| Non Fiction Text planning sheet.docx | Download |
| Phase 5 home learning challenge.pdf | Download |
| T-G-272-The-Five-Oceans-Labelling-Map-Activity-Sheet.pdf | Download |
| T-G-273-The-Seven-Continents-Labelling-Activity-Sheet_ver_6.pdf | Download |
Year 1