Governance at Hazel. What do we do?

The Governors of Hazel Community Primary bring expertise from areas of education, industry and from the wider school community; we meet regularly at the school to provide challenge and support to the headteacher.
We value and promote a positive and committed school atmosphere at Hazel Community Primary. We believe the school enables staff, pupils, parents and governors to work together to ensure that all pupils have the opportunity to develop to their full potential and that the school is an exciting place for learning.
The Governing body plays an important strategic and legal role in maintaining the success of Hazel Community Primary, helping to raise standards and ensuring that all pupils receive the best possible education. We work closely with the headteacher, staff and the local authority in setting and agreeing the strategic direction of the school.
Our core functions are:
• Ensuring clarity of vision, ethos and strategic direction ;

• Holding the headteacher to account for the educational performance of the school and its pupils; and

• Overseeing the financial performance of the school and making sure its money is well spent
At Hazel Community Primary School we operate a broadly no-committee model of school governance. The no-committee model allows all governors to be present at, and contribute to, all discussions held at the regular governing body meetings. These meetings include all key areas as appropriate.
Named Governors are linked to each key area and report back to the full governing body where relevant at the regular governing body meetings.
Link Governors meet with key staff in their area at least one per term. Their role in this meeting is to observe, monitor and evaluate the work in their area of responsibility. Link Governors support and challenge staff in order to build capacity and to develop their own understanding. (Further link work may be undertaken where relevant through Learning Walks, external Governor training etc.)
Outcomes from these interactions are reported back to the full Governing body using the Hazel template and are discussed as a group at the regular governing body meetings. All Governors are free to enquire and further challenge the Link Governor on this. Further actions maybe required or inspired which the Link Governor will undertake and report back.
Governors are also involved in supporting the school in making sure the education provided is the best it can be through visiting the school and watching lessons, as well as talking with children, parents and staff on a regular basis.
We do hold a Finance and a T+L committee.
Meeting Dates 2019 – 2020


Autumn 2019
Spring 2020
Summer 2020

26th September 2019

24th October 2019

28th November 2019

19th December 2019

23rd January 2020

27th February 2020

26th March 2020

14th May 2020

25th June 2020
Annual Governance Statement
As a result of a Governing Body/Senior Leadership Strategy day in the summer of 2019 the Governing Body self-evaluated and concluded:
Governors are committed to working with the SLT and teachers to improve the quality of education and experiences that pupils receive

They have a growing confidence in their strategic role

They have developed effective questioning of the SLT and holding them to account

Governors have a good working knowledge and understanding of schools and the education system
However
The Governing Body profile is not high enough and too many staff are unclear who we are and what we do.

As Governors find themselves responsible for new areas relevant training will be needed.

The skills audit highlighted areas where we would benefit from training and which would direct future recruitment.

Whilst beneficial to individual governors, school visits are sometimes without strategic purpose

Full Governing Body meetings are too long and often too operational
As a result of this self evaluation, and as part of our improved effectiveness, we are determined to address the issues that were highlighted during that day.
Would you like to join us?
We currently have vacancies for Governors and Parent governors on the Governing body and would like to increase the range of skills available to support the work of the school.
We are especially seeking governors with financial management expertise, with experience of basing funding decisions on organisational priorities and the ability to interpret financial data and question financial performance against strategic priorities. Prospective governors with HR experience and expertise would also be very welcome. Governors are vital to ensure the governing body is fully representative of school users and our local community. Being a member of our governing body is a rewarding experience and will ensure you continue to make a lasting contribution to the development of the school and the education of its pupils.
If you would like to become involved as a Governor/Parent Governor please contact Lynda Callaghan, our Chair of Governors, for an informal discussion. We would be delighted to hear from you.
Email lcallaghan@hazel.leicester.sch.uk or call 0116 233 8411

Alternatively contact:

Governor Services Team – Education Performance Service
Social Care and Education
Leicester City Council
Tel: 0116 454 1916
www.leicester.gov.uk/governors
Governor Blog

Check out our Governor Blog to keep up to date with what Governors do eg.
* Governor training
* Accompanying pupils on school visits
* Walkthroughs to monitor the day to day running of the school
* Supporting initiatives in the community
Governor Responsibilities 2019 – 2020


Historical Governor information
Governor Training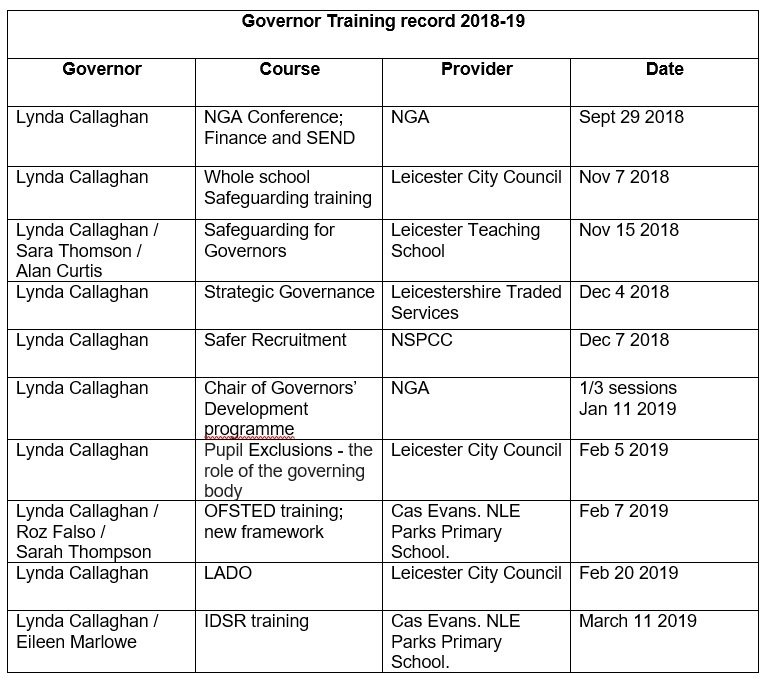 Governor Attendance Data
Hazel Community Primary School – Information and Attendance details
Information

Attendance Full Governing Body meetings

2018/2019

Name

Governor Type*

Position

Date Appointed**

Term of Office ends

Register of Interests

Miss Cindy Gunn

Authority Governor

28/02/2019

27/02/2023

None

4/5

Vacancy

Parent Governor

Vacancy

Parent Governor

Vacancy

Staff Governor

Mr Alan Curtis

Co-opted Governor

09/11/2017

08/11/2021

None

10/10

Ms Lynda Callaghan

Co-opted Governor

Chair of Governors

Safeguarding Governor

18/05/2019

17/05/2023

None

10/10

Ms Sarah Thomson

Co-opted Governor

Vice Chair of Governors

Finance Governor

05/10/2015

04/10/2019

None

5/10

Mrs Eileen Marlowe

Co-opted Governor

22/11/2018

21/11/2022

None

6/8

Vacancy

Co-opted Governor

Mr Errol Rowe

Headteacher (Interim) (Autumn and Spring Term)

Ex officio

--

None

8/8

Miss Barbara Aimable

Headteacher (Interim) (Summer Term)

Ex officio

-

None

3/3

Mrs Hannah Jeffries

Observer

07/03/2016

-

Deputy Headteacher

-
Clerk to Governors – Robyn Cooper
Co-opted Governors are appointed by the governing body, Authority Governors are nominated by the Local Authority and appointed by the Governing Body, Parent Governors are elected by the parent body and Staff Governors are elected by the staff body of the school ** All Governors' terms of office are 4 years.
Governors who have left the governing body in the last 12 months
Information

Attendance Full Governing Body meetings/2019

Name

Governor Type*

Position

Date Appointed**

Term of Office ends

Register of Interests

Ms Roz Falso

Staff Governor

19/11/2015

20/06/2019 - Resigned

None

7/10

Mr Robert Vincent

Co-opted Governor

22/11/2018

22/09/2019 - Resigned

None

6/8