Attendance
Every day at school is packed full of learning.
When a child misses a day from school, it's gone forever.
Our target is for all our pupils to achieve at least 96.4% attendance.
There is a clear link between attendance and achievement. Regular attendance is the most important factor in a child reaching their full potential. 90% attendance actually means that your child has been away from school for half a day every week! If your child has 90% attendance for a whole year that means that they have had nearly 4 whole weeks off school in a year! That equates to 19 days or 80 lessons!
What should you do?
BRING YOUR CHILD TO SCHOOL EVERY DAY ON TIME
Contact us on 0116 233 84 11
Text us on 07981 916518
Or Email: office@hazel.leicester.sch.uk
AS SOON AS THERE IS A PROBLEM
We promise :
We will give weekly class attendance certificates.

We will give enamel badges to children celebrating 100% attendance.

We will support you in promoting good attendance and punctuality.

We will do our best to contact you on the first day of an absence by telephone.

We will contact you regularly until your child returns to school.

We will contact you if we have any concerns over attendance and punctuality.

We will also contact you by letter if we are concerned about persistent absence.

We will be there for you if you contact us about issues that may be impacting on your child's attendance. We will do our best to support you and find a solution to the problem.

We will request evidence if attendance is below 90% as classed as persistent absence.

We will closely monitor with any families that have below 90%. We will hold a legal panel meeting with the Local Authority Educational Welfare Officer (EWO) for families with concerning school attendance.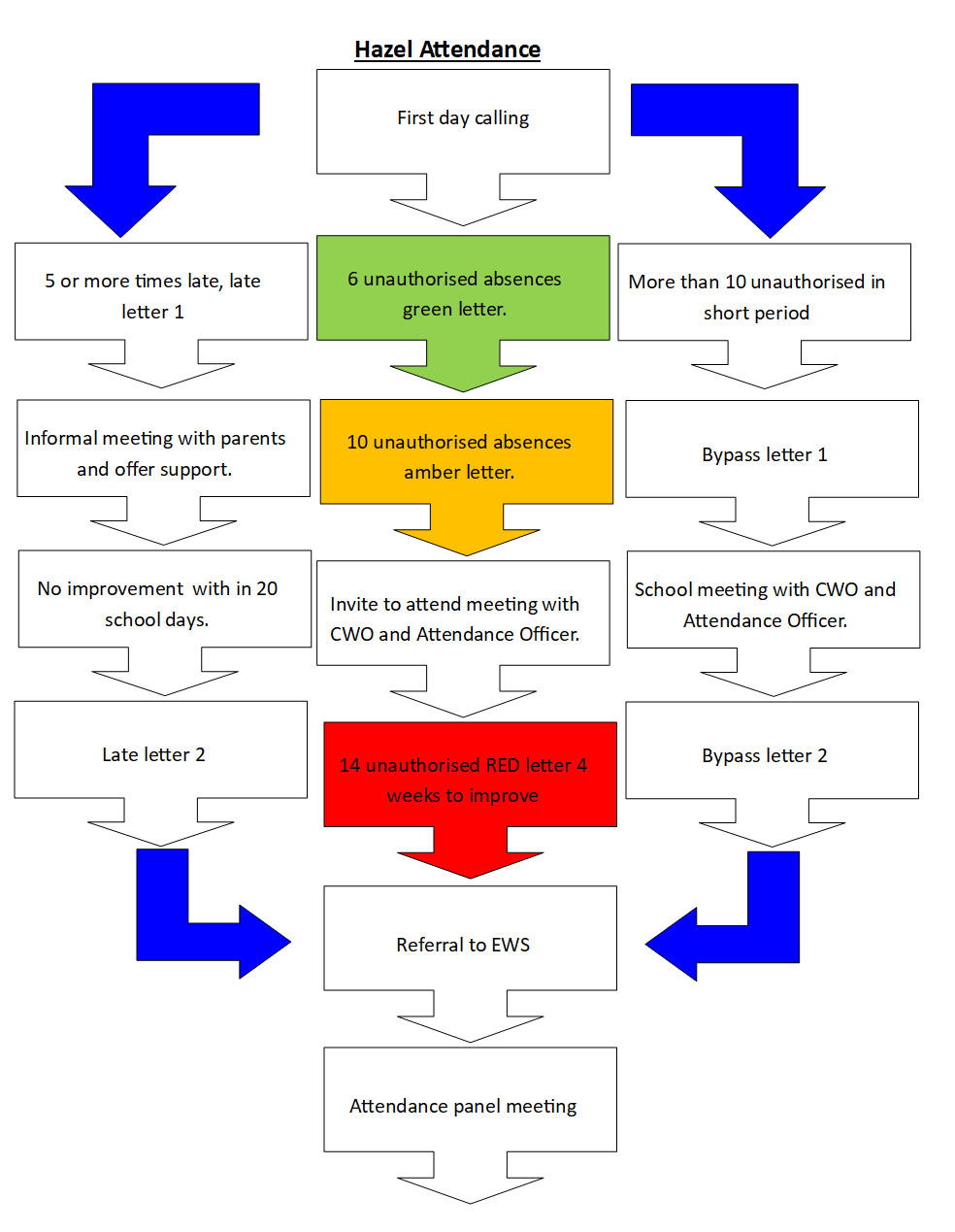 It is your responsibility to :
Phone, Text or Email Hazel School on your child's first day of absence.

Make medical appointments out of school time.

Not take your child out of school during term time for holidays.

Encourage and praise your child at every opportunity.
Medical Appointments
Please avoid making medical appointments during the school day. Doctors and Dentist surgeries are open until late. School finishes at 3:30pm. We will also require evidence of an appointment in order to record the absence as medical.
Routine dental and doctor appointments should, where possible, be made after school.
Please remember, with your permission, we can administer medication in school.
Zero Tolerance
Since September 2013, government legislation prevents Head teachers from authorising term time absence, except in the most exceptional of circumstances. We know that, at Hazel Community Primary School, we can count on parents to value their children's education and not request term time leave of absence.
We will define exceptional of circumstance for you:
"The fundamental principles for defining 'exceptional' are where requests are rare, significant, unavoidable and short. NAHT believes that these new guidelines support existing government policy on school absence. They will give head teachers and parents a consistent and reasonable definition of 'exceptional'."
(http://www.naht.org.uk/welcome/news-and-media/key-topics/parents-and-pupils/naht-issues-new-guidance-on-authorised-absence/)
We will request evidence from families of booking arrangements, medical evidence from GPs and or any documents to back up your request.

We may issue a Penalty Notice if you fail to provide evidence of an exceptional circumstance.

We may issue a Penalty Notice for unexplained long term absence
Hazel Community Primary School does not authorise holidays. Requests made last academic year were unauthorised and resulted in a fixed penalty notice (a fine of £120 per parent, per child).
We would like to make you aware of the Educational Welfare process for repeated holidays.
Unauthorised holiday process between the ages of 5 years and 16 years inclusive.
| | |
| --- | --- |
| 1st Holiday | £120 fine per parent - reduced to £60 if paid within 28 days. Non-payment leads to court action and a possible criminal record. |
| 2nd Holiday | £120 fine per parent - reduced to £60 if pain within 28 days. Non-payment leads to court action and a possible criminal record. |
| 3rd Holiday | Immediate court action leading to prosecution, you could get a £2500 fine, a supervision order, a community order or a prison sentence for up to 3 months. You will receive a criminal record which could affect your access to some countries. |
What you must do :
Do not take any holidays during term time (see Term Dates page or speak to the office for a paper copy)

Check visas and passports and arrange to go back to your country during school holidays.

.If your trip is unavoidable you must see the Attendance Officer, Adam Cleaver. You will be expected to provide a letter and documented proof.
When a unauthorised holiday is taken, we will ask the Local Authority to issue a Fixed Penalty Notice (FPN). This will lead to a fine of at least £60 per parent, per child.
Working together to improve attendance!
Below is a link for our A-Z of Attendance at Hazel Community Primary School
School attendance matters