Safeguarding and Child Protection Training, January 2020
Eileen Marlowe, Co-opted Governor.
This was an interesting and informative session updating all staff and governors about legislation and practical ways to ensure all pupils are cared for physically and mentally.
All staff were required to be present and governors were invited to join them. The speaker was impressive, speaking without referring to notes, which added to the interest.
A particularly good aspect was the information given about prevalent safeguarding issues within the Leicester City Area.
From a governor's point of view, I learnt quite a lot, and found seeing all the staff together fascinating. We are privileged to have many faiths, differing ages and racial heritages within Hazel; this can only be seen as of great benefit to the pupils
Xmas dinner, December 2019
Cindy Gunn, Local Authority Governor.
I was lucky enough to be invited to eat Christmas lunch with the pupils of Hazel Community Primary school on the 18th December. It was a lovely experience and certainly made me feel ready for my own Christmas celebrations. The children were all very excited but all tucked into their food with hardly a scrap to be seen. A full turkey dinner was on offer as well as alternatives for those with other dietary requirements and the food was very good quality. The children were very well behaved and I had conversations with many of them about their favourite types of foods – with surprising results (vegetables appeared on many lists for example). I'm looking forward to next year already!
SEND Governor workshop, October 2019
Lynda Callaghan, Chair of Governors.
For my first governor training of 2019-20 I attended an SEND Governor workshop delivered by Nick Thornber at Rushey Mead Teaching School. The SEND governor was unable to attend but luckily I could go instead. I came away with a list of questions that I have asked the safeguarding governor to choose from and to ask the SENCO when they meet in November. Considerations such as these are reflected in the School development plan and Governors will be monitoring carefully.
How is awareness of SEND reflected in lesson planning ?
Do we have any pupils whose needs are not being met? Why? What needs to happen? What evidence is there that we are not identifying needs soon enough or not continuing to do so in Y6?
What does Hazel understand by "cultural capital" and how do we ensure SEND pupils benefit?
Hazel French Trip, June 2019
Cindy Gunn, Local Authority Governor.
I was delighted to be invited recently to speak with some of our Year 4/5 pupils who had attended Hazel's first ever school trip to France! The pupils, together with our language teacher Ms.Chettle-Cully, all had a fantastic time immersing themselves in French culture and cuisine. They had created a lovely presentation with photos of all the things they experienced in France, such as bread making and shopping at the local French market – which they talked us though very animatedly using many French words and terms. And of course, a trip to France must include a trip (or two) to their lovely sandy beaches! For many of the children who attended, it was their first time away from home but they all threw themselves into all the activities with gusto. Everyone was very enthused about the trip and told us about some lovely memories they had made with their school friends, as well as learning much about the differences between the UK and French ways of life. Here's looking forward to the next trip so more students can enjoy the same experience.
IDSR training at Parks Primary School, Leicester. March 2019
Eileen Marlowe, Co-opted Governor.
On Monday 11th I attended an interesting meeting about the above with Cas Evans, a local NLE currently supporting the school.
I found it very informative and helpful. When you look briefly at data during a full governing body meeting, I personally cannot interpret the full significance of what I am seeing and listen to the person speaking. Following such a meeting I look again at the data, but to learn exactly what each type of data shows, their actual significance and their inter-relationship, gave me clarity of thought about what it all actually meant for Hazel Community Primary.
I now feel enabled to look at such data with a more analytical eye, and will be able to ask more relevant in depth question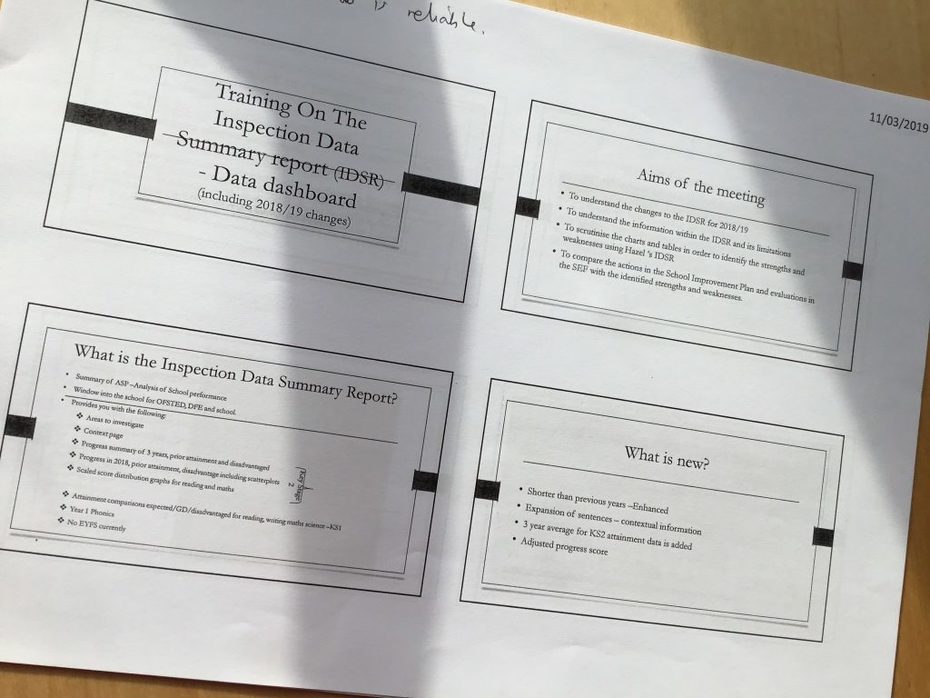 Allegations against Adults workshop, Feb 2019
Lynda Callaghan. Chair of Governors.
I recently attended an Allegations against Adults workshop at City Hall. This was delivered on behalf of the Safeguarding and Quality Assurance Unit by the local Authority designated Officer, (LADO), Jude Atkinson. A range of professionals attended the workshop from nurseries to post-16 providers from across the city. The aims of the session were to:
• Gain an understanding of the role of the Local Authority Designated Officer (LADO)
• Gain an understanding of procedures for managing allegations and how to access advice and guidance when an allegation of harm has been made
• Gain an understanding of the roles and responsibilities of involved parties
It reminded us of statutory expectations and guidelines and gave us all the opportunity to hear about individual scenarios that may have cropped up. Whilst we can always learn from good practice around us I can confidently say that at Hazel Community Primary School all staff are aware of safeguarding policies and procedures and are aware of expectations of their conduct and behaviour.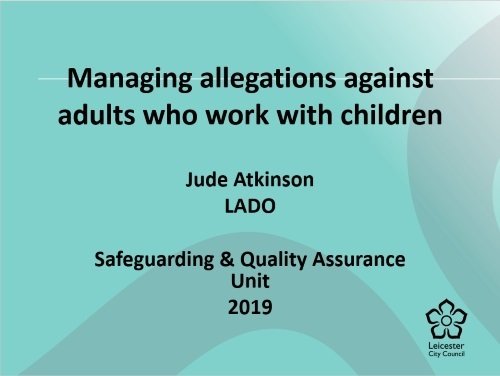 ---
Safeguarding Training – November 14th 2018
Lynda Callaghan, Chair of Governors.
Sara Thomson, Alan Curtis and I attended useful and thought-provoking Safeguarding training for Governors at the Leicester Teaching School, Rushey Mead Academy on Nov 14. This complemented the whole-school training that had taken place the week before with staff. It was useful to go together and to have the time to learn and discuss things as a group. We take Safeguarding extremely seriously at Hazel Community Primary School and Governors will attend as much training as possible. We will consider Safeguarding from every angle and ultimately do everything in our power to keep your child safe whilst they are with us.
Hear and Now, November 9th 2018
Lynda Callaghan, Chair of Governors.
Last Friday, Nov 9, Mr Curtis and I were delighted to be invited to watch Hazel students perform in the Hear and Now project with musicians from the Philharmonia Orchestra and students from dmu. The event took place at The Peepul Centre, on the other side of town to Hazel, but still several parents joined us to watch and support. Our pupils worked very hard and creatively to produce fabulous music with the Leicester Musical Memory Box. The event is supported by dmu; click here to read more about the project.
www.dmu.ac.uk
This is the second time our pupils have worked with the group and I know that everyone involved was very pleased to see each other again!
Training and support for the Governing Body, September 2018
Lynda Callaghan, Chair of Governors.
The Governors at Hazel have recently joined the National Governance Association. This organisation will provide training and support for the Governor Body to deliver on its 3 key priorities:
• Ensuring clarity of vision, ethos and strategic direction;
• Holding the headteacher to account for the educational performance of the school and its pupils; and
• Overseeing the financial performance of the school and making sure its money is well spent
It began last Saturday, September 29 at their East Midlands conference and I was able to go along to The Tigers ground on behalf of the Governing Body and will feedback to everyone who couldn't make it.
The conference focused on two main areas : Finance and SEND. Obviously both areas are very closely connected and it is our job as Governors to make sure that money spent by Hazel Community Primary School makes a difference to the lives of every child that comes through our doors.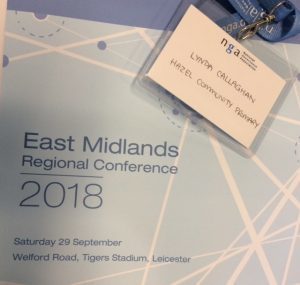 ---
Mrs Blatherwick's Last Day – Friday 13th July 2018
Today is a huge day for Hazel. We are saying goodbye to Mrs. Blatherwick who has been with the school for 14 years. On behalf of the Governors I'd like to say that we cannot thank her enough for all her hard work and dedication over those years. We recognise the passion for the development and futures of all Hazel children as well as her interest and support of their families.
Mrs. Blatherwick you will be greatly missed. Thank you for everything you have given the school and its community, to your staff and Governors and to Leicester as a whole.
Good luck for the future.
Lynda Callaghan
Chair of Governors
May Day celebrations 2018
On a beautiful Spring day today I was lucky enough to watch the May Day celebrations at Hazel involving the Leicester Morrismen. Mr Corcoran is a Morris dancer and he and his group of Morris dancers gave us a wonderful display of dances this morning. These dances come from villages all over England and were another example of the range of cultures that pupils are taught about at our school.
'The Morris is an ancient English tradition going back centuries. It's so old that nobody knows how it started or what it means, though there are plenty of theories! Everyone seems to agree that it's something to do with the cycle of the seasons and making the crops grow.'
https://leicestermorrismen.co.uk
Lynda Callaghan
Chair of Governors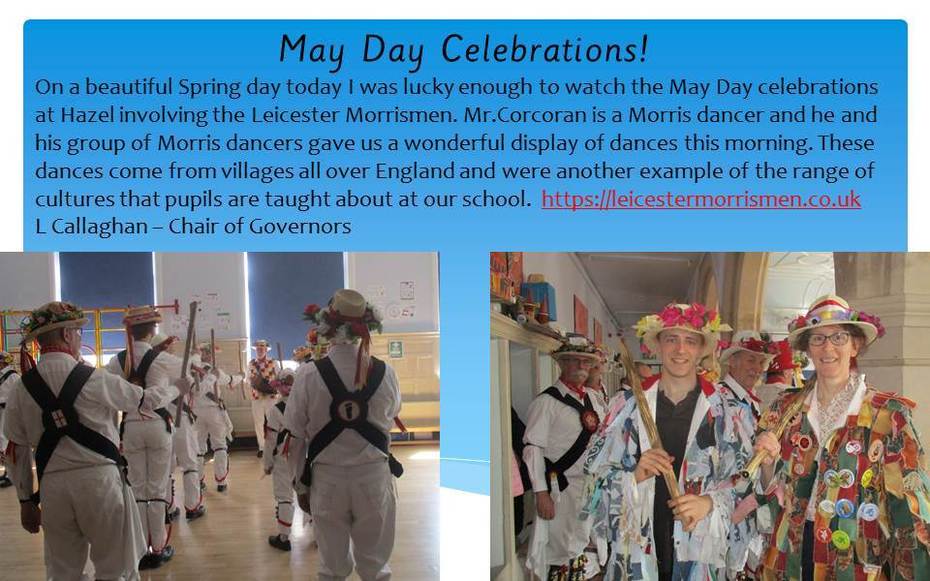 Safeguarding Training; Alan Curtis. November 2017
On 28th November, Lynda Callaghan and I attended an Introduction to Safeguarding Children session for school governors at Forest Lodge Education Centre. The aims of the session were to explore the role and responsibilities of Governors in the context of the school's general duty to safeguard and promote the welfare of pupils. It was certainly two hours well spent!
The training was delivered by Mohammed Patel, a Safeguarding in Education Officer from Leicester City Council. Starting with an exploration of safeguarding issues that a school might have to deal with, we moved on to discussing the differences between Safeguarding and Child Protection, a school's legal responsibilities and various situations that children might find themselves in or experience. After a well earned break, we focussed on a Governing Body's responsibilities.
The content and delivery of the session was excellent, with lots of opportunities for questions and sharing good practice. It certainly made us aware of our role in keeping children safe and how we can work with staff at school to constantly review and update our knowledge and how we work.

Alan Curtis
Governor

Romeo and Juliet 2017

Earlier this week I saw a production of Romeo and Juliet at school with Years 5 and 6. This particular theatre company, The Young Shakespeare Company, is a regular visitor to Hazel and alternates between two different Shakespeare plays.

The play took place in the upstairs hall and when I didn't see any scenery at all it was hard to imagine how they were going to get the atmosphere of Verona, Italy across – but of course they did. Pupils sat on opposing sides to represent the two warring families of Montague and Capulet and they were included as actors and dressed in hats and tabards. The actors did an amazing job of creating the tense atmosphere between the families and helping the pupils to understand how easily things can get out of hand.

Our pupils were a credit to us; listening well, answering questions well and truly immersing themselves in the whole production.

Lynda Callaghan
Chair of Governors

Sing!! – Friday 17th November 2017

The Into Film Festival is the world's largest free film and education event for young people presenting 3,000 free cinema screenings, and showcasing over 140 films at more than 600 venues across the UK. … and we got to go!

Last week I had the pleasure of accompanying a group of Hazel pupils to see Sing at the Odeon, Freeman's Common. We had gone along as part of the Into Film festival. The pupils in my group were Y2, from Mrs. Bhalla's class and were delightful and very well behaved. Along with several staff and parent volunteers we walked the pupils down to the cinema, all wrapped up in coats and scarves, high viz jackets and Hazel ID wristbands. Once inside they were patient and happy chatting, waiting for it all to start. By the end we were dancing in our seats and singing at the tops of our voices!

It was a pleasure to meet more students and especially useful to meet some of our wonderful parents.

Lynda Callaghan
Chair of Governors