Latin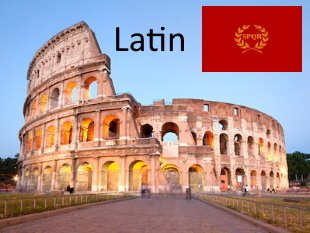 New content coming soon, below is some information from previous academic years.
Monday 17th December 2018 –
Io Saturnalia!
Long before Christmas was celebrated in the United Kingdom, the Romans were celebrating the festival of Saturnalia, in honour of the God Saturn. The festival began around the 17th December and lasted many days, often up until 23rd December. It was a time of year when the normal rules of life did not apply and people dedicated themselves to having fun. Many of the traditions were now associate with Christmas formed part of the celebration of Saturnalia, including lots of eating, decorating homes with holly and mistletoe and giving presents. Latin Club held their own version of Saturnalia, including traditional games from the time such as corking bobbing. We also had our own 'feast' of bread, goats' cheese, grapes and honey. The cheese, which many of us had never tried before, was very popular! Some of us even tried reclining (laying down) to eat, which is just how the Romans did it.
Io Saturnalia (Happy Saturnalia!)
Monday 10th December –
Being Roman soldiers
Today our wonderful student volunteer, Shem, bought in some replica Roman armour and boots from the University of Leicester for us to look at. We spent a lot of time thinking about the function of each object and why it would be an important part of a soldier's kit, then we had a chance to handle the artefacts and even try on a replica Roman helmet. It was very hard to move and hear in it! The chain-mail was incredibly heavy and we realised that the Roman soldiers who wore it must have had to be very strong. Many thanks to the University of Leicester for providing the objects and giving us a taste of life as a Roman soldier.
Monday 4th December 2018 –
Writing like the Romans
Did you know that the Romans actually wrote their numbers as letters? Today we've been learning to count in Latin and write our numbers in Roman numerals, making links to French and Spanish as the pronunciation of many of the numbers is similar in all three languages. Instead of doing our work on whiteboards, we wrote our numbers on wax tablets with a stylus, which is how Roman children would have written during their lessons with their 'magister' (teacher). Because paper was very expensive in Roman times, most people wrote their notes and lists on tablets, which were wooden frames filled with hardened wax. The stylus was a sort of pen made of metal or bone, but our wooden kebab skewers were a bit less traditional! Here are some examples of our work.
Monday 19th November 2018 –
Making Roman Bread
Today Latin Club had a go at making loaves of bread like those found preserved in the Roman town of Herculaneum after the irruption of Vesuvius. We worked in teams to weigh and measure the ingredients, mixed them together using traditional methods and kneaded the dough until it was smooth. Before putting them into the oven, we tied string around the loaves, which is what the Romans used to do so that the loaves were easy to carry home from the bakery. The finished bread was rather heavy but quite tasty. We are looking forward to trying more Roman recipes later in the year.
Monday 5th November
University of Leicester and Classics for All:
We are really lucky to have created links with the Leicester Classics Hub at the University of Leicester, who invited us to a taster session at the School of Archaeology. We learned all about life in Roman Leicester, looked at artefacts and matched them to their Roman owners and thought about how English is closely linked to Latin by comparing word and their meanings. We even have a new volunteer starting with us next week who is currently studying Latin at the University of Leicester. Many thanks to all at the Leicester Classics Hub for their support in getting Latin established at Hazel Community Primary School.
Monday 29th October
Salvete omnes!
Latin Club is here and has had a great response! We meet every week to learn not only the Latin language, but also about the history and culture of the Romans and how they have impacted the language and culture of the British Isles. Using the 'Hands Up Education' online programme, we explore the ancient Roman city of Herculanium, meet the people who might have lived there, listen to them speak and learn about what their lives were like.