Awards and Accreditations
Find out more about how Hazel is recognised and rewarded for our hard work both within and outside of the curriculum.
International School Award
Hazel has achieved full accreditation for the International School Award. Here is an excerpt from our school's accreditation report:
"The international dimension is clearly embedded in your school's curriculum, development plan and whole-school ethos, dovetailing neatly with other priorities, such as MFL and UN Sustainable Development Goals. International activities, including dynamic collaboration with partner schools in a variety of other countries and continents, have taken place during the past two academic years, despite some necessary and expected curtailments and adjustments due to Covid restrictions. You have provided excellent detail about the activities, conveying a clear impression of curriculum-based pupil involvement, collaboration and outcomes. Your Impact Evaluation is detailed and insightful, highlighting benefits for pupils, teachers and local community groups. You acknowledge increased knowledge of other countries and aspects of their cultures and languages, awareness of key global issues, global citizenship attributes and skills, and an appreciation for cultural diversity. Teachers have also gained curriculum planning skills. The quotes from your pupils' feedback clearly indicate their enjoyment, interest and intercultural understanding gained from learning about other European countries via the eTwinning project. You have good plans to sustain and further develop your international school partnerships, activities and celebrations. Congratulations to all concerned! We wish you continuing success and enjoyment with your international endeavours. Congratulations on working so hard to co-ordinate such an impressive range of work as an International Co-ordinator! You are a credit to the school and the wider community."
_______________________________________
Primary Science Quality Mark
We are delighted and incredibly proud to announce that we have been awarded the Primary Science Quality Mark (PSQM) for our primary science leadership and its impact across the school. The PSQM is a one-year school improvement programme for science, which provides professional development for science leaders, resulting in an improvement in the way science is planned and taught across the whole school. It is led by the University of Hertfordshire in collaboration with the Primary Science Teaching Trust.
Associate Professor Jane Turner, PSQM National Director. said: "There was never a more important time for primary children to have a high-quality science education. The coronavirus pandemic and climate change crisis have made everyone aware of the importance of science in our world. Primary schools have an important role to ensure that children understand how science works and keeps us and our planet healthy and safe. Schools that have achieved a Primary Science Quality Mark have demonstrated a significant commitment to science teaching and learning. The profile and quality of science in each awarded school is very high. Children are engaging with great science both in and outside the classroom, developing positive attitudes towards science as well as secure scientific understanding and skills. Science subject leaders, their colleagues, head teachers, children, parents and governors should be very proud."
_______________________________________
Linguamarque Award
In November 2021 Hazel was awarded the Linguamarque Bronze Award for our achievements in teaching and learning in French.
The Linguamarque Award is an accreditation given to schools who are able to demonstrate that they are teaching languages well, through well-planned sequences of lessons, and that pupils are making excellent progress. Our assessor was very pleased with the languages provision that we have at Hazel and was extremely impressed with our pupils' work.
We are very proud of our learners for all of their hard work in French and are excited to continue to develop our languages curriculum with lots of exciting events and plans coming in the future at Hazel.
_______________________________________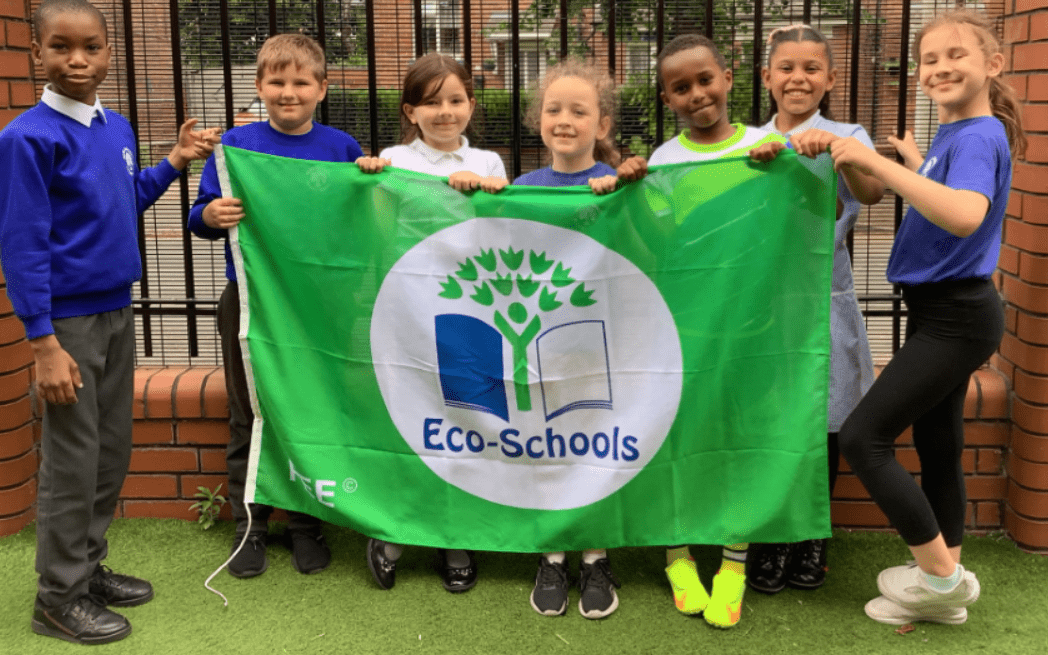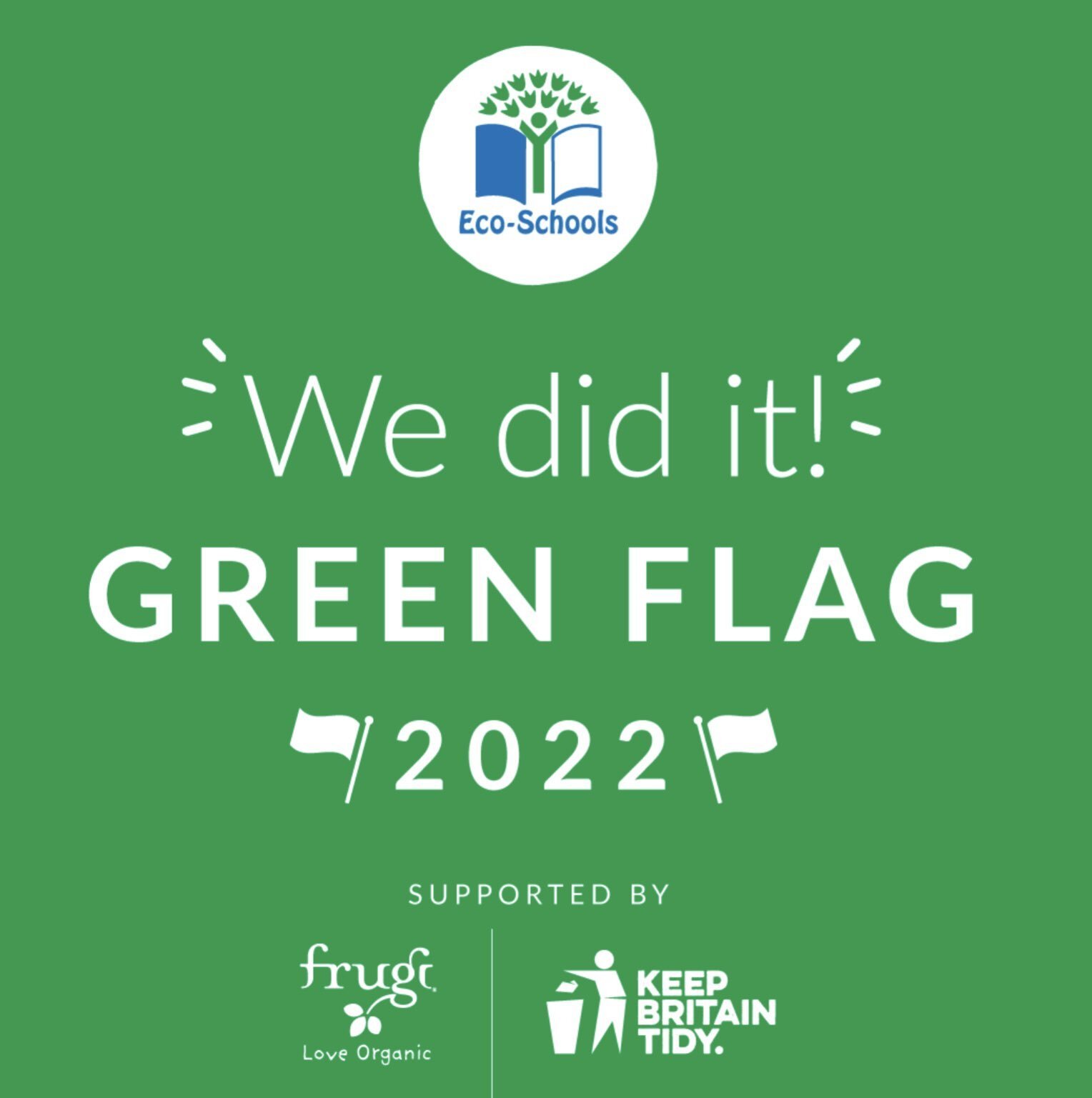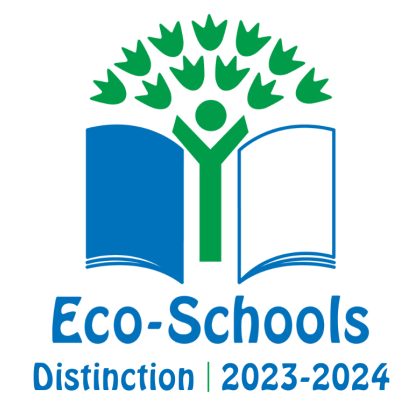 Green Flag Award
Hazel was awarded the Green Flag Award with Merit in June 2022.
We then achieved the Green Flag with Distinction Award in June 2023!
"We are very pleased to tell you that you and your Eco-Committee at Hazel Community Primary School have been awarded an Eco-Schools Green Flag.

We love your democratic and fair approach to appointing Eco-Committee members. It's great to see that other pupils played a part in the process. It was really great to read how your Environmental Review provided the basis for the projects in your Action Plan. It demonstrates a reflective and considered approach to your Eco-Schools work, this is a great skill that many adults can learn from! It was wonderful to see how completing your Environmental Review helped your Eco-Committee to spot gaps in your school's existing environmental activity. But equally important is that it helped you to recognise the great work that you were already doing. This helps to keep up the good activity whilst making you feel empowered to do different things. We love this! We love the range of activities that you and your Eco-Committee planned for delivery, We loved hearing about your litter picking and learning about what growing onions can provide - well done!
You've clearly embedded the ethos of the Eco-Schools programme far and wide in your school! We're really impressed at how you've linked environmental issues to a variety of curriculum areas. This approach looks at the big issue of climate change in a holistic way, which is the best approach to understanding and appreciating the enormity of the issue. Great work! The parent quote is a great testament to the work that you are doing with your Eco-Committee, that they are taking their Eco-Schools work home with them and getting their families on board is something to be proud of! Well done to your students who have encouraged others to turn lights off and to recycle more - well done! I hope you and your Eco-Committee take great pride in your achievements, everyone involved should be incredibly proud of the changes they have made! Your Eco-Code is really smart and concise. It's a great message and it's punchy nature will definitely help it be processed by everyone passing by your Eco-Board.
Congratulations to everyone for the great work you have managed to do. You should all be very proud of your work and the application you have submitted!"
_______________________________________
We achieved the School Games Mark GOLD Award for the 2022/23 academic year. This is in recognition of our sporting success at Hazel and our commitment to sport and PE inside and beyond our school curriculum.
Leicestershire Music Bronze Award
We have achieved the Leicestershire Music Bronze Quality Mark.
You can find out more about our Music curriculum by visiting our Curriculum Subjects page.
Healthy Schools Network Bronze Award
We have achieved the Healthy Schools Network Leicester Bronze Award.
You can find out more about our work on promoting healthy eating via our PSHE curriculum by visiting our Curriculum Subjects page.
Primary Geography Quality Mark
In September 2023 we achieved Silver accreditation for the Primary Geography Quality Mark (PGQM). This award recognises the strengths of our geography curriculum across the school.
We have been recognised in this award in particular for our focus on local place study and our clear balanced focus on disciplinary and substantive knowledge.
Our geography curriculum is carefully sequenced to ensure that all pupils have carefully planned opportunities to learn incrementally, whilst making connections between cause and effect, the human and physical environment and associated changes over space and time.